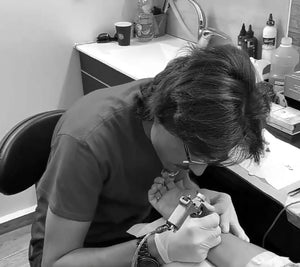 Nizar Razzouk
Nizar has been tattooing since 2015 starting at the very early age of 12 when he started accompanying his father in any chance he had to quickly learn the techniques from his father who encouraged him to start his journey in the tattooing world even at that very young age.
Nizar is now a young tattooist with a lot of experience and knowledge when it comes to line work tattooing, the style that is mostly used in the Razzouk Tattoo shop. His love and dedication to his father and his family is what drives him to work hard and to help execute as many tattoos as possible especially on days where the shop is bombarded by tens of clients who are willing to wait hours in line just to get a tattoo by the Razzouk family.
Nizar is still at school and will be taking over the business alongside his older brother Anton to carry on the torch into the future.
---