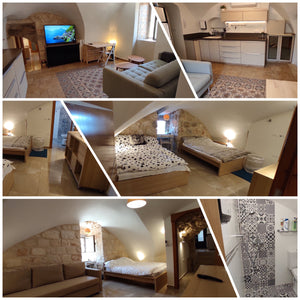 The Old City Experience
A Razzouk owned apartment in the Christian Quarter of the Old City of Jerusalem. Situated in the old market, this place is a cozy stay for those who are looking to experience the atmosphere of the Old City while also having the comfort of a high standard apartment. In addition to that, it overlooks the historic Hezekiah's Pool on one side of the house. Moreover, the Holy Sepulchre Church is only a 5-minute walk away.
Consisting of two master bedrooms, a restroom with a shower in each, and a living room with a small kitchen, this apartment can accommodate up to 10 individuals. The two bedrooms have a code on each as a lock. Smart TVs are also included and are found in each of the two bedrooms, as well as the living room. An extra restroom consisting of a shower, a toilet, and a washing machine is also available. Air conditions are found in all 3 rooms. All amenities, such as a microwave, a fridge, a heating stove, and a washing stool are also included.
---